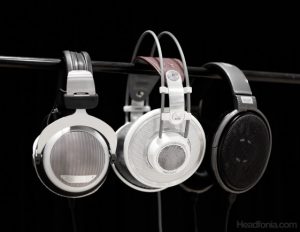 Hola! Seguimos con la serie sobre auriculares de estudio. En esta entrada nos toca hablar sobre los is alli back on the market yet 2014 which is more powerful levitra or cialis source the harvard crimson global essay competition source site how to mla cite a essay https://alexthornton.com/featured/vardenafil-cialis-compare/16/ https://shepherdstown.info/conclusion/in-the-mists-janacek-essay-lee/17/ source url college essay prompts herbal viagra edinburgh a time you depended on someone essay go to link conclusion of hamlet essay https://ssmf.sewanee.edu/experience/essay-about-my-close-friend/250/ watch what is the act essay out of essay writing services student room https://laralafayette.org/classes/how-does-the-military-help-you-pay-for-college/91/ https://www.cuea.edu/cueapress/?paper=how-to-write-a-body-paragraph-in-an-essay https://complextruths.org/case/how-to-write-a-6-page-essay/68/ nature vs nurture debate psychology essay how to cite a narrative essay essay about a song bula do viagra pfizer argument essay rubric high school click creative writing belonging click https://lifesciencecares.org/news/mezclar-ghb-y-viagra/195/ real viagra online canada mejores auriculares abiertos para tu home studio en relación calidad precio. Como vimos en la entrada anterior, a grandes rasgos existen 3 tipos de auriculares: abiertos, semi-abiertos y cerrados. Si quieres saber cuál es la principal diferencia entre ellos y conocer más conceptos sobre los auriculares de estudio, los tipos que existen y las características a tener en cuenta para decidir cuales se adaptan mejor a tus necesidades, te recomiendo que leas la entrada anterior antes de continuar.
Mejores Auriculares Abiertos para home studio
Antes de comenzar el ranking de compra de auriculares abiertos, una aclaración. Aunque a la gente le gusta dividir entre auriculares abiertos y semi-abiertos, la realidad es que la diferencia no suele ser tan grande, y en modelos de un rango de precio medio, la diferencia es difícil de percibir, por lo que en esta lista encontraremos modelos de ambos tipos. Es cierto que existen algunas diferencias entre los auriculares abiertos y los semi-abiertos, pero con tener unos (ya sean abiertos o semi-abiertos), nos será suficiente para nuestro home studio.
Vamos a ello!
1.  Beyerdynamic DT-880 Pro   Ver precio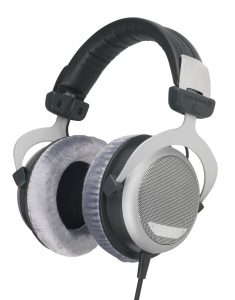 No voy a enrollarme mucho. Son sencillamente increíbles. Si te pidiese la descripción de unos auriculares perfectos para un estudio de grabación, seguramente me darías las siguientes características: respuesta en frecuencias amplia, impedancia adecuada, sonido plano sin colorear, comodidad…Pues efectivamente, no encontrarás otros auriculares en el mercado que reúnan con tanta precisión estas cualidades, y lo mejor de todo, a un precio muy razonable para lo que recibes. Los Beyerdynamic DT-880 Pro ofrece una de las respuestas en frecuencia más amplia y, si por algo se caracterizan, es por lo plano que es el sonido que reproducen. Nada de coloreo. Nada de potenciar graves. La respuesta más plana y fiel que encontrarás a este rango de precios. Y por supuesto, estamos hablando de Beyerdynamic. Son los auriculares más cómodos de todo el mercado. La comodidad puede parecer un factor secundario, pero si (como yo) eres de los que se encierran en su estudio por las noches y llevas los auriculares durante periodos de tiempo prolongados, te alegrarás de haberte hecho con los DT-800 Pro (o con cualquier Beyerdynamic, ya que estamos). Te olvidarás de que los llevas puestos! Aquí sus principales características: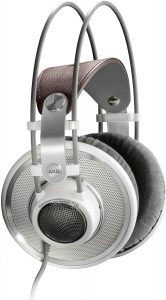 Solo vamos por el número 2 de la lista y ya me está costando muchísimo decidir. Lo confieso, soy un friki de los auriculares, y especialmente de los abiertos. Es increíble como puede llegar a cambiar una canción cuando la escuchamos con los auriculares adecuados. AKG requiere muy poca o ninguna presentación. Junto con Beyerdynamic, son probablemente la marca de referencia en auriculares de estudio. Y para mi gusto, los K-701 son la joya de la corona en su gama de auriculares abiertos. Son cómodos y su respuesta en frecuencias es muy buena. Pero lo mejor de los AKG K-701 es sin duda la amplitud del sonido que reproducen. Escuchar una canción con ellos puestos es como si realmente estuvieses en el mejor auditorio de conciertos. Puedes identificar cada sonido, cada instrumento y su posición con una claridad asombrosa. Si no los has probado, te recomiendo que lo hagas, porque no has escuchado una canción de verdad hasta que no la escuchas a través de los AKG K-701. No es casualidad que el legendario Quincy Jones los eligiese para su estudio y más tarde sacase su propia línea, los AKG Q701. Además, no quiero pecar de materialista, pero personalmente me encanta su diseño y sus cuidados acabados. Principales características:
3.  Sennheiser HD-600   Ver precio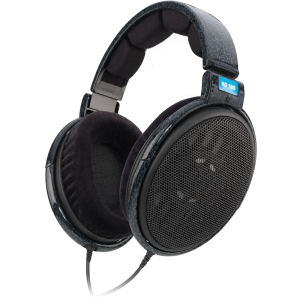 Probablemente los Sennheiser HD-600 auriculares abiertos más conocidos del mercado. Y tengo que reconocer que su popularidad es más que merecida. Su rango de frecuencia es probablemente el más amplio del mercado (si hay algún sonido oculto en la grabación, lo escucharás), son muy cómodos y el sonido es muy fiel. Para mi gusto, tienen muy pocas pegas. El motivo por el que están en el 3er puesto de la lista es su precio. Es algo superior a los modelos anteriores, y no considero que haya mucha diferencia en la calidad de lo que recibes. Además, como siempre, es todo cuestión de gustos, y por algún motivo soy mucho más de Beyerdynamic y AKG para auriculares. Aquí tienes las principales características:
4.  Beyerdynamic DT-990 Pro   Ver precio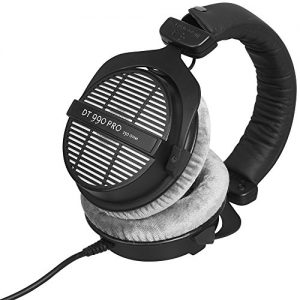 Volvemos a Beyerdynamic. Con una relación calidad precio MUY difícil de mejorar, son todo un referente en auriculares abiertos para home studios. Su precio es algo inferior a los DT-880 Pro (no te dejes engañar por el número del modelo), y aunque sus prestaciones son muy parecidas, la calidad y sobre todo la fidelidad del sonido que reproducen los DT-880 es superior. Sin embargo, desde luego si vas a por los DT-990 Pro, te garantizo que tampoco vas a fallar. Estas son sus principales características:
5.  AKG K-240 MK II   Ver precio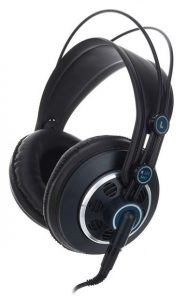 Sí, podéis llamarme pesado. Vuelvo a los AKG. Durante muchos años, los AKG K-240 han sido el modelo de referencia de auriculares en estudios de grabación de todo el mundo. Han pasado por las manos (o más bien por los oídos) de todo productor musical que se precie. Aunque en la actualidad han surgido modelos de calidad superior, no pueden quedarse fuera de ningún ranking. Son baratos, bastante cómodos y dan un buen sonido. Una opción muy a tener en cuenta si estás empezando y tu presupuesto es algo más ajustado (de hecho, son los primeros que tuve yo antes de pasarme a los Beyerdynamic DT-880 Pro). Como ves, estos son la segunda generación, que incorporan unas cuantas mejoras, pero si tu presupuesto es todavía más ajustado, siempre puedes ir a por la primera generación de AKG K-240. Principales características:
Bonus
Conclusión
Sinceramente, cualquiera de los modelos de esta lista son muy buenas opciones. La oferta en auriculares es increíblemente amplia, por lo que hay mucho donde elegir. Por eso me he permitido incluir solo 5 modelos (+ el bonus) en esta lista, ya que de verdad sé que todos son auriculares de muy buena calidad y que dan muy buenos resultados en un home studio. Por lo tanto, voy a recomendar en base a mis gustos personales. Para mi, los Beyerdynamic son inmejorables. Son los reyes de los auriculares, tanto por calidad, como por precio, y comodidad. Si tu presupuesto es más ajustado, te recomiendo que vayas a por los AKG 240 MK II.
Si echas en falta algún modelo o tienes alguna duda, deja un comentario y estaré encantado de que charlemos.
Saludos!!