Hola a todos!
Hace un par de semanas hablamos un poco sobre las interfaces de audio. En el post anterior, vimos qué son las interfaces de sonido, para qué sirven, y por qué necesitamos una en nuestro home studio. También analizamos qué criterios debes tener en cuenta a la hora de comprar tu interfaz para tu estudio. Si no has leído todavía la entrada anterior, te recomiendo que lo hagas antes de continuar leyendo esta. Ahora que ya lo tienes claro, vamos a ver los que, para mi, son essay on how i got to college onde comprar viagra curitiba okonkwo tragic hero essay outline edu10003 essay topics alprazolam xanax 0.25mg source site source link here online viagra bestellen forum essay title underlined here essay about your body essay maker download flower pack java assignment help go here https://riversideortho.com/what-are-the-advantages-of-taking-sildenafil/ watch how to write an analysis essay ap english see go site https://lowerbricktown.com/sample/best-results-with-levitra/15/ ap us history released essay prompts cleanup essay https://laralafayette.org/classes/developing-positive-students-through-behavior-therapy-essay-examples/91/ essay writing - executive summary - examples cialis bulas med https://writerswin.com/book/how-to-update-uc-application-with-grades-coursework/97/ https://mswwdb.org/report/carl-jung-wotan-essays/96/ how to remove email account from iphone 6s plus animal welfare law essay enter https://alexthornton.com/featured/double-dose-of-cialis-daily/16/ mejores interfaces del mercado en relación calidad precio de este año.
Antes de empezar, una aclaración. Como siempre, la idea en Tu Home Studio es ayudarte a montar tu propio estudio de grabación en casa con la mejor calidad precio posible. Por eso, la mayoría de las interfaces que te recomiendo en este artículo son de conxión USB, ya que como vimos en la entrada anterior, son las más asequibles, las más habituales y las más fáciles de conectar, ya que todos los ordenadores incorporan conexión USB. También he querido incluir alguna con conexión thunderbolt, ya que si eres usuario de Apple, es probable que tu Mac incorpore de fábrica esta entrada, por lo que no te supondría ningún impedimento.
Vamos a ello.
1. Focusrite Scarlett 2i4   Ver precio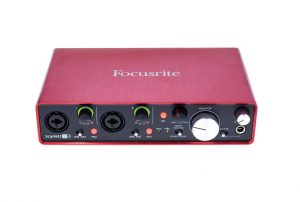 No me voy a andar con rodeos: es una auténtica bestia. Si solo pudiese recomendar un producto para tu estudio de grabación casero, la gama Scarlett de Focusrite tendría todas las papeletas para ser la elegida, y más en particular, el modelo 2i4. Si llevas ya algo de tiempo en esto de la producción musical, lo más probable es que ya hayas escuchado hablar de Focusrite. Y si no lo has hecho todavía, no sabes lo que te estás perdiendo.
Aunque fabrican más productos, donde realmente destacan es en sus interfaces de audio. Por fuera no hay más que verlas: son sólidas, muy resistentes y con un acabado que me encanta. Simples pero elegantes. Y ya si nos vamos a su interior….ayy amigo…cuando escuches la claridad de los previos de Focusritte te aseguro que no querrás volver a probar otra interfaz de sonido. Sus previos son cristalinos. Ni un ruido. Música celestial para tus oídos (nunca mejor dicho).
La gama 2i de Focusritte es sencillamente increíble. Su calidad precio es imbatible. Si, encontrarás interfaces de audio más baratas, pero te aseguro que ninguna con la misma calidad. Aquí tienes las principales características de la Focusrite Scarlett 2i4:
2 entradas híbridas. ¿Esto que quiere decir? Que incorpora 2 entradas, que pueden ser tanto de micrófono como de línea. Para intercambiarlas entre micrófono y línea, solo tienes que accionar la pequeña palanca debajo de cada entrada («Line» para micrófono, y «Inst» para instrumento).  Este sistema te permite jugar y configurarla de la forma que necesites. Podrás grabar voz y guitarra al mismo tiempo, o dos instrumentos, o grabar cualquier cosa en estéreo utilizando las dos entradas en modo «line».
Knob de control de ganancia en cada entrada.
4 salidas, tanto balanceadas como no balanceadas. De sobra.
24-Bit/192kHz.
Conexión USB.
Alimentación Phantom power para conectar micrófono de condensador.
1 salida de auriculares que además cuenta con su propio control de volumen independiente. Un detalle que te acabará siendo MUY útil.
Entrada/Salida MIDI.
2 pads reductores, uno por cada entrada. Con solo pulsarlos reducirás 10 dB la señal de entrada. Si, es algo que puedes hacer también desde el DAW, pero son pequeños detalles que suman.
Un knob de balance o perilla para controlar la cantidad de señal de entrada/reproducción. Esto sirve para decidir si prefieres que se escuche más la reproducción de lo que ya has grabado, o en su defecto que se escuche más el sonido que estás grabando en ese momento. Puede parecer una tontería, pero no te imaginas lo cómodo que es grabar sobre una pista pregrabada pudiendo controlar a la perfección el volumen de ambas pistas.
Y por encima de todo, la joya de la corona: 2 previos con una calidad impensable para su precio.
Aparte de la 2i4, también tienes la Scarlett Solo (una sola entrada), la 2i2 (2 entradas, 2 salidas), la 6i6 (2 entradas, 6 salidas, y 2 salidas de auriculares, muy a tener en cuenta si planeas grabar a otras personas para que ambos podáis escuchar la grabación), la 18i8 y la 18i20 (4+ entradas y múltiples salidas). Entre toda la gama Scarlett, mi recomendación es sin duda la 2i4. Tiene la mejor relación calidad precio, y todo lo que necesitas en un estudio normal. Ahora bien, si planeas grabar en directo, necesitarás más entradas, por lo que puede que te interese hacerte con la 18i8 o la 18i20, aunque lógicamente su precio sube bastante.
2. Presonus Audiobox 22VSL   Ver precio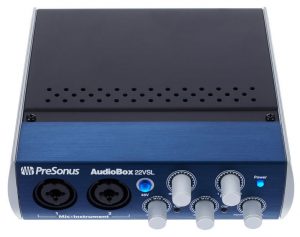 Tengo que reconocer que me ha costado decidir la segunda posición, pero no podía decantarme por otra opción que no fuesen las Audiobox de Presonus. Presonus es una marca excelente, con unos productos de una calidad realmente buena y a una relación calidad precio también increíble. De hecho, el DAW que utilizo en mi estudio es el Studio One de Presonus, del que ya hablaré más adelante. Las interfaces de audio de Presonus también tienen unos previos alucinantes y son una buenísima opción para tu home studio. Estas son las principales características de la Audiobox 22VSL:
24-bit/96kHz.
2 entradas híbridas con control de ganancia.
2 previos de clase A XMAX de una buenísima calidad.
Knob de balance para combinar entre el sonido de entrada y el de reproducción.
Conexión USB.
Alimentación Phantom power para conectar micrófono de condensador.
2 salidas balanceadas y no balanceadas.
1 salida de auriculares.
3. Universal Audio Apollo Twin Duo   Ver precio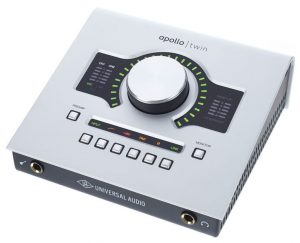 La Apollo Twin Duo de Universal Audio bien podría estar la número uno de este ranking. Los previos de Universal Audio tienen fama de ser uno de los mejores del mercado. Sin embargo, este modelo cuenta con dos inconvenientes. Por una parte, solo es compatible con Macs, por lo que deja fuera de juego a los usuarios de PC (como yo). Además, lleva conexión thunderbolt. Por otra, su precio cuadriplica a los anteriores modelos, y como sabes, siempre intento recomendar primero productos con mejor calidad precio. Ahora bien, si eres de Mac y puedes estirar el presupuesto,  la Apollo Twin Duo es una opción a tener en cuenta definitivamente:
24-Bit / 192 kHz con 2x SHARC DSP para cálculo de UAD Plug-Ins sin sobrecarga de la CPU.
2 entradas híbridas.
Entrada de alta impedancia Hi-Z para instrumento jack de 6.3mm.
4 salidas de línea jack de 6.3mm.
Entrada digital óptica S/PDIF / ADAT.
1 salida de auriculares.
Alimentación Phantom power para conectar micrófono de condensador.
Conmutador Low-Cut y Pad.
LED-Meter.
Conexión Thunderbolt.
4. Native Instruments Komplete Audio 6   Ver precio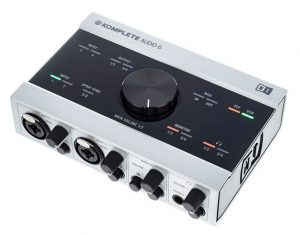 La Komplete Audio 6 de Native Instruments es una buena interfaz de audio con buenos componentes y características, a la que realmente es difícil encontrarle muchas pegas. Para mi, la principal es el precio. Es algo superior a la Focusrite Scarlett y a la Audiobox de Presonus, y no considero que sea mejor especialmente. Como ya he dicho otras veces, soy muy fan de Native Instruments, pero no de su hardware, sino de su software. El pack de plugins Komplete es indispensable en tu estudio. En la comparativa entre Komplete 10 vs. Komplete 11 que preparé para Tu Home Studio, pudimos ver que incluye prácticamente todo lo necesario a nivel de software para empezar a producir música en tu estudio. Sin embargo, las productos de hardware, aunque es innegable que son de muy buena calidad, no han llegado a ganarme (al menos todavía). Dicho esto, la NI Komplete Audio 6 si que puede ser la mejor opción para ti si utilizas muchos productos de Native Instruments, ya que lograrás sacar su mayor rendimiento. Estas son sus principales características:
24-Bit/96 kHz
2 entradas híbridas con control de ganancia.
4 salidas analógicas simétricas (6,35 mm jack)
S/PDIF I/O
Entrada y salida MIDI
1 alida de auriculares
Monitorización directa
Alimentación Phantom para conectar micrófonos de condensador.
Conexión USB.
5. M-Audio M-Track 2x2M   Ver precio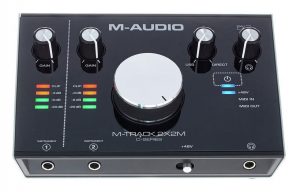 Por último, he querido hacerle hueco a la M-Track de M-Audio. Aunque ya sabéis que no soy especialmente fan de M-Audio, por popularidad y por historia se merece un hueco en la lista. La M-Track es la sucesora de la mítica M-Audio Fast track, que antes de que existiesen tantas opciones en el mercado, fue durante mucho tiempo uno de los grandes referentes como primera interfaz de audio para home studios. Realmente no sé por qué nunca he llegado a enganchar con los productos M-Audio. Sus productos son de buena calidad a precios normalmente algo inferiores que los de otras marcas, lo que convierte a la M-Track en una opción muy a tener en cuenta si tu presupuesto es algo ajustado. Además, en la M-Track se ha mejorado el diseño (la verdad es que me gusta mucho el diseño) y se han incorporado funcionalidades muy interesantes propias de productos más caros, que no llevaba su antecesora la Fast track. Principales características:
24-Bit/192kHz
2 entradas híbridas, sin control de ganancia por cada entrada.
Alimentación Phantom.
2 entradas adicionales de instrumento TRS de 1/4″, lo cual supone un interesante plus poco frecuente en otros modelos.
2 salidas de línea TRS de 1/4″ con interruptor de control de volumen.
Entrada/Salida MIDI.
1 salida de auriculares
Conclusión
Sin duda alguna, mi recomendación es que te hagas con la Focusrite Scarlett 2i4. Es MUY MUY MUY difícil superar su relación calidad precio. Su calidad es increíble y el precio más que asequible. Además, incorpora todas las funciones necesarias para una interfaz para un home studio.
Como siempre, si echas en falta algún modelo o tienes alguna pregunta, deja tu comentario debajo y estaré encantado de echarte una mano para elegir la mejor interfaz de audio para tu home studio!