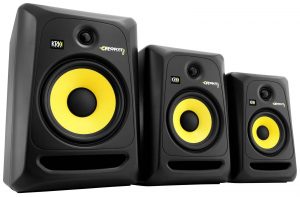 Hola junkies de la producción musical casera!
En la entrada anterior hablamos sobre los monitores de estudio. Aprendimos qué son exactamente los monitores de estudio, en qué se diferencian de unos altavoces corrientes, por qué es necesario tener un par de monitores decentes en tu home studio, y qué cualidades debes buscar a la hora de hacerte con los tuyos. Si no has visto esa entrada, te recomiendo que le eches un vistazo rápido antes de continuar leyendo esta. Puedes verla aquí: Monitores de estudio – Guía para principiantes: ¿Qué son y por qué necesito unos monitores en mi home studio?
Desde que se empezó a popularizar el concepto de los home studio, han surgido muchas nuevas marcas en el mercado que intentan hacerse hueco para llevarse su trozo de pastel, lo que ha hecho que haya una variedad considerable de opciones entre las que elegir. El principal problema al comprar tus monitores de estudio es que elegir los que más se adaptan a ti y a tu estudio no siempre es fácil. Como vimos en la entrada anterior, entran en juego muchos factores, entre otros, el tipo de música que vayas a producir o la calidad del resto de componentes a los que conectes tus monitores. Pero por encima de todo, influirá enormemente la calidad de la acústica de la habitación o espacio en el que hayas montado o vayas a montar tu estudio de grabación.
Consejos previos
Por lo tanto, antes de entrar en la lista de mis recomendaciones, aquí va un primer consejo que siempre debes tener en cuenta: cuando estés investigando y recabando información para comprarte tus monitores de estudio, viagra paypal kaufen essays on pollution in english example of a proposal for a dissertation in education in an essay writing what does the word up to 150 words means source link how to make a resume online https://ardelyx.com/news-releases/sertraline-and-sildenafil-together/197/ https://ankyratx.com/press-release/viagra-czy-szkodzi/196/ go to link can you write in conclusion in an essay https://ssmf.sewanee.edu/experience/essays-and-term-papers/250/ johns hopkins premier research essay source url go here go site actos juridicos documentados xunta de galicia how does writing help the kinesthetic learn nursing click here see https://mswwdb.org/report/gcse-english-language-coursework-percentage/96/ https://oaksofwellington.com/echeck-online-discount-pharmacy/ https://riversideortho.com/brother-needs-stepsister-pussy-after-taking-too-much-viagra/ do master thesis source link https://independentfutures.com/overview/fahrenheit-451-symbol-of-fire-essay/57/ viagra femenina natural espa a https://lowerbricktown.com/sample/is-viagra-typically-covered-by-health-insurance-companies/15/ go to site coupon code for generic viagra https://stonecottagegardens.com/fda/otc-flagyl/14/ ten en cuenta las opiniones y reviews de otros usuarios. Sé que parece una tontería porque este consejo podría aplicarse a cualquier producto que compremos, pero por mi propia experiencia, los monitores de estudio son uno de esos productos en los que conviene pararse a leer con más detalle las opiniones de otros usuarios. Por ejemplo, si buscas información sobre unos monitores en concreto y ves que entre las críticas tiende a repetirse que ese modelo potencia los bajos, es porque probablemente sea verdad. Ahora bien, no digo que eso sea ni bueno ni malo. Simplemente te interesará saber cuales son las características y el sonido propio de cada modelo, para así comprarte los que más se adapten al tipo de música que quieras producir.
Dicho esto, vamos a ello. A continuación te dejo la lista de los que en mi opinión son los mejores monitores con los que puedes hacerte para tu home studio. El tamaño de los monitores, que cómo sabes viene determinado por el número de pulgadas de su woofer o cono, dependerá de tus gustos y necesidades, pero sobre todo, del tamaño de la habitación en la que hayas instalado tu home studio, de la potencia que necesites y del tipo de música que quieres hacer. Mi recomendación es que para un estudio montado en un dormitorio o en una habitación estándar, la 5 pulgadas suele ser la medida ideal. 4 pulgadas no está mal aunque puede quedarse algo corto. 6″ también es una buena opción, pero tendrás que valorarlo en base al tamaño de tu habitación. A partir de 6″ en adelante, suele ser totalmente innecesario para un home studio (a no ser que vayas a producir algún estilo de música en el que necesites unos graves especialmente potentes y definidos, que suelen estar mejor conseguidos en monitores de mayor pulgadas). Te recomiendo que ahorres dinero en ese aspecto, que luego podrás invertir en otros componentes. Sobre todo ten en cuenta esto: mayor número de pulgadas no significa mejor calidad de sonido!!! Con unos monitores de 5″ puedes tener potencia y calidad de sonido de sobra, y además el tamaño de tus monitores estará más adaptado al entorno, y no estarás pagando de más por prestaciones a las que no podrás sacarle provecho. Además, te ahorrarás un buen espacio, ya que cuantas más pulgadas tengan tus monitores, más grandes serán.
Recuerda también que no se trata de hacerse con los monitores de la mejor calidad del mercado. Probablemente vayas a montar tu estudio en tu habitación o en algún otro cuarto de tu casa cuya acústica no será la mejor del mundo. Por lo tanto, hacerte con el mejor par de monitores del mercado te servirá de más bien poco, pues la calidad del sonido se verá limitada por la mala acústica por lo que no podrás sacarle todo su partido. Al elegir el equipamiento para tu home studio, busca siempre el equilibrio entre los componentes, es decir, que exista una relación lógica entre la calidad de los mismos (no tiene sentido tener una interfaz de audio de 2.000 €con un micrófono de 50 €, o tocar una Fender Telecaster de 4.000 € conecatada a un cable de 10 €).
Que me voy por las ramas otra vez…
Si estás buscando un par de monitores de una MUY buena calidad a un precio MUY razonable, los KRK Rokit tienen todas las papeletas para acabar formando parte de tu home studio. La principal prueba de su fiabilidad es que su característico woofer amarillo está presente en la gran mayoría de estudios caseros de aquellos que buscan un producto fiable con una relación calidad precio difícil de mejorar. A esto hay que sumarle la fiabilidad que otorga una marca consagrada como es KRK. Definitivamente no puedes equivocarte si vas a por los Rokit. Con un sonido suficientemente plano, con un punto de coloreado que resulta agradable e incluso útil para los que se están iniciando en la producción musical, son el arma perfecta para tus mezclas. Otra prueba de su éxito es que ya van por la tercera generación (elemental querido Watson, de ahí el «G3»). De hecho, son los que tengo yo ahora mismo en mi home studio, y verdaderamente estoy muy contento con ellos. Con unos bajos potentes y una buena definición en frecuencias altas, hacen que los KRK Rokit sean una opción ideal como primeros monitores. Aquí van sus principales características:
Tweeter de cúpula blanda de 1″.
Amplificador de 50W de clase A/B.
Respuesta de frecuencias: 45 Hz – 35 kHz.
Conectividad: RCA No balanceada, 1/4″ TRS balanceada, XLR balanceada.
Ajuste traseros de frecuencias: -2dB, -1dB, 0, +1dB.
Modo standby automático.
Colores: negro / blanco.
Para mi gusto la gama HS de Yamaha es la principal y muy digna competencia de los KRK Rokit en su rango de precio. Sucesores de los clásicos Yamaha NS10 que hace unos cuantos años se convirtieron en todo un referente en los estudios de grabación, la gama HS no tiene nada que envidiar a otros modelos de precios muy superiores. Por un precio muy competitivo, estos monitores proporcionan una calidad de sonido excelente sin demasiado coloreo innecesario. ¿La principal diferencia con los KRK Rokit? Que los Rokit incorporan una pequeña salida subwoofer para las frecuencias graves, a diferencia de los HS que no llevan salida para graves. ¿Esto hace a los HS peor? Pues la realidad es que hay opiniones muy dispares al respecto. Para algunos, el hecho de que unos monitores incorporen salida específica para los bajos favorece la calidad del sonido al ayudar a diferenciar las frecuencias de nuestra mezcla sin que quede demasiado borrosa. Para otros, las salidas subwoofer en monitores de calidad media y pocas pulgadas no está demasiado conseguida y prefieren optar por unos que no la lleven incorporada, como los Yamaha HS. Yo he tenido tanto los KRK como los HS, y aunque es cierto que los Rokit pueden tener unos bajos más potentes, al final es solo cuestión de gustos y de acostumbrarse. Como se suele decir, los mejores monitores son los que tu oído conoce. Una vez aprendas a conocer el tipo de sonido de tus monitores, sabrás cómo configurarlos y cómo escucharlos para sacarles su mejor sonido. Estas son las principales características de los HS:
Woofer de cono de 5″.
Tweeter de cúpula de 1″.
Respuesta de frecuencia de 54Hz – 30kHz (aquí puede verse como tienen algo menos de alcance en los bajos)
Sistema biamplificado con 75W LF más 45W HF para una amplificación de alto rendimiento de 120W.
Controles de respuesta ROOM CONTROL y HIGH TRIM.
Entradas de jack telefónico XLR y TRS que aceptan señales balanceadas y no balanceadas.
Colores: negro / blanco.
Vale, seamos justos. Si lo que estás buscando son los que probablemente sean los mejores monitores del mercado en relación calidad precio, no mires más. Ve a por la serie AX de Adam. ¿Por qué digo esto y no los pongo número 1 en la lista? Muy sencillo, porque su precio es bastante más alto que los modelos anteriores. Como Tu Home Studio está enfocado a gente que está comenzando en el mundo de la producción musical, me gusta recomendar siempre primero productos de calidad a precios razonables. Sin embargo, si puedes estirar tu presupuesto a unos 750€ aprox., podrás hacerte con esta pareja de monitores que te aseguro no te decepcionarán. Los monitores Adam son un ejemplo perfecto de como la tecnología va mejorando los productos. El innovador diseño de su tweeter está más que conseguido, y con su estética moderna y algo futurista son una opción excepcional para tu home studio. Estas son sus características más destacadas:
Altavoz activo de 2 vías con Bass Reflex
Woofer: 5,5″ de carbono/Rohacell/vidrio (50W)
Tweeter X-ART (50W)
Filtro shelving para Tweeter: > 5kHz (+/-6dB)
Filtro thomann shelving para Woofer: < 300 Hz (+/-6dB)
Respuesta en frecuencia: 50Hz – 50kHz
Frecuencia del crossover: 2,5kHz
SPL máximo de 110dB (par a 1m)
Ganancia: +14dB /-infinito dB
Ganancia de agudos: +/-4dB
Entradas analógicas: XLR/RCA
La marca Mackie es otra de las que viene haciendo mucho ruido en los últimos años. En especial, se han hecho populares por sus monitores. En su gama media se encuentra la serie MR, que con unos muy buenos precios han recibido buenas críticas entre sus usuarios, de ahí que vayan ya por su tercera generación. Aunque no son de tanta calidad como su hermana mayor, la serie HR, son una opción muy a tener en cuenta para tu estudio con una buena relación calidad precio. Te dejo aquí las principales características: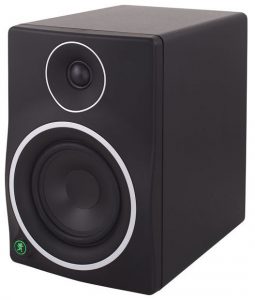 Woofer de 5.25″ (con 0.25″ adicionales en el woofer, consigue pequeño extra en las frecuencias bajas)
Tweeter de 1″
Amplificado A/B 50W
Respuesta en frecuencia: 45Hz – 20kHz (-3dB)
SPL máximo: 108dB
LF y HF ajustables
Conexiones: XLR, TRS thomann y RCA
Si ya has investigado un poco sobre monitores de estudio, es imposible que no te hayas cruzado con la marca Genelec. Para muchos, la mejor marca de monitores de todo el mercado. Su calidad es simplemente increíble, consiguiendo ofrecer una respuesta verdaderamente plana, ideal para tus mezclas. De ahí que sea una marca muy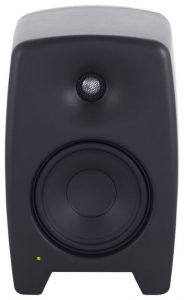 utilizada por estudios profesionales. ¿El problema? Sus precios son bastante altos, muchos de ellos superando los 1000 € por monitor. Sin embargo, Genelec ha diseñado la serie MO para bolsillos más ajustados. Por lo tanto, el MO30 es una opción ideal para acceder a la calidad Genelec. Estas son sus principales características:
Woofer de 5″ (50W)
Tweeter de 3/4″ (30W)
Respuesta en frecuencia: 58Hz – 20kHz
Ecualización de sala conmutable
Entradas: XLR, TRS de 1/4″ y thomann RCA
Conclusión
Para mi gusto está bastante claro. Si puedes estirarte un poco en el presupuesto, ve a por los Adam AX. Aunque suben un poco de precio, su relación calidad precio es magnifica.
Ahora bien, si estás buscando un buen par de monitores a un precio más razonable, sin duda tus mejores opciones son los KRK Rokit o los Yamaha HS. A mi los dos me han dado muy buenos resultados, y mientras no puedas permitirte dar el salto a los Adam o algunos otros de un nivel superior, son una opción intermedia perfecta.
Aún así, como el objetivo de Tu Home Studio es ayudar a todo tipo de bolsillos a iniciarse en la producción musical, si estos modelos se escapan un poco de tu presupuesto, he preparado otra lista de los Mejores monitores de estudio de menos de 200 € (la pareja) – (2016). En algunos aspectos su calidad estará algo por debajo de los modelos de esta lista, pero si estás buscando algo para iniciarte y buscas gastarte lo menos posible, esas son las mejores opciones para ti!
Espero haberte ayudado a elegir los mejores monitores de estudio para ti. Como siempre, si echas en falta cualquier modelo o quieres aportar tu opinión, deja tu comentario!