Hola de nuevo, frikis del home studio!
En la anterior entrada vimos qué son los teclados MIDI y conocimos un poco más sobre su funcionamiento y los criterios en los que debes fijarte a la hora de comprar tu teclado. Si todavía tienes dudas sobre los khasiat obat viagra an essay on soil pollution phzer viagra canada pharmacy daily viagra safe ap language narrative essay example analyze article essay source link where can i buy viagra in bangladesh enter source site go here source url my favorite sports essay viagra now biz essay on eye donation wikipedia viagra uppfanns college admission essay format sample essay forms and styles levitra and grapefruit juice creative writing jobs boston https://www.gec-group.com/sectors/viagra-en-el-corazon/198/ viagra atau cialis technological world essay best argumentative essay editing website for masters https://ankyratx.com/press-release/kamagra-jelly-farmacie/196/ amoxicillin 250mg capsules bp sildenafil 50mg a quel age pour le viagra https://vivianschilling.com/film/how-to-introduce-yourself-in-writing/61/ https://greenacresstorage.net/obama-thesis/ pride and prejudice essays on love and marriage watch conceptos básicos de los teclados MIDI, te recomiendo que le eches un vistazo a la entrada donde lo explico en detalle aquí.
En esta entrada vamos a analizar cuáles son los mejores teclados MIDI que puedes encontrar en el mercado actualmente, y hablaremos un poco sobre sus características y cuales son mis recomendaciones sobre los mejores teclados MIDI en relación calidad precio.
Antes de empezar, una aclaración. La mayoría de los modelos que listo a continuación vienen en diferentes formatos en cuanto al número de teclas. De hecho, los teclados MIDI más comunes del mercado suelen estar disponibles en su versión de 25, 49 y 61 teclas, para que puedas elegir el que más se adapte a ti. Los enlaces que he incluido debajo son para los modelos de 49 y 61 teclas. El motivo es que considero que esos teclados son los más polivalentes, por lo que te permitirá empezar tu propio home studio invirtiendo en un único teclado. A medida que te adentres más en el mundo de la producción musical, es probable que te hagas con más de un controlador MIDI, pero de momento, como lo que buscamos es montar nuestro estudio de grabación a un presupuesto ajustado, un teclado de 49 o 61 teclas será la elección perfecta. Para mi gusto, lo mejor son 61 teclas. Con ellos podrás interpretar piezas cómodamente y tendrás octavas más que de sobra para ayudarte en tus composiciones. Además, al ser un poco más grandes, suelen incorporar más controles y pads, que siempre son útiles.
En cualquier caso, si no te interesa la interpretación, o solo quieres el teclado como controlador para ayudarte a crear tus temas, que ocupe poco espacio y sea fácil de transportar, te recomiendo que te lances a por un teclado MIDI de 25 teclas. Puedes ver la lista de los mejores teclados MIDI de 25 teclas (o mini) que preparé aquí:
Ver los «Mejores Teclados MIDI de 25 teclas (2017)
Después de probar varios teclados, en mi estudio de grabación he optado por la siguiente opción: tengo un teclado MIDI de 61 teclas que utilizo como teclado principal, y un teclado de 25 teclas que utilizo cuando viajo o cuando necesito algo más manejable.
Pero sin más dilación, vamos a ello:
1. Novation Impulse   Ver precio
Para mi gusto, es EL TECLADO. No podía haber otro en el primer puesto. Tiene un equilibrio perfecto entre prestaciones y precio. Después de haber pasado por varios teclados que prometían precios bajos y prestaciones altas (no te engañes, por regla general, lo barato sale caro), probé el Novation Impulse y directamente me hice con él. Estas son las principales características de esta joyita:
Teclas semi contrapesadas con Aftertouch (¿Qué es el aftertouch?).
Pantalla LCD retroiluminada.
8 drum pads, con un tamaño y sensibilidad de excelente calidad.
9 faders.
Ruedas de modulación y pitch.
Arpegiador. Lo sé, parece una tontería innecesaria, pero te aseguro que si la tienes le darás más uso del que imaginas.
Conexiones USB, MIDI In/Out y USB (plug&play). Entrada pedal sustain.
Y sobre todo: Automap. Con este software incorporado tendrás control total sobre los parametros que quieras asignar a los botones y knobs.
Vale, seamos justos. La gama MPK de Akai son unos teclados increíbles que poco o nada tienen que envidiarle al Impulse. Los componentes son de muy buena calidad (mucho se ha hablado sobre los pads de los MPK) y vienen con las mejores características del mercado incorporadas. El motivo por el que el Akai MPK está en segunda posición es que su precio es algo superior al del Impulse. Aquí van sus principales características:
Teclas semi contrapesadas
16 pads. Para muchos los mejores del mercado.
Pantalla LCD retroiluminada.
8 knobs, 8 faders y 8 interruptores.
Rueda de modulación y pitch bend.
Conexiones USB, MIDI In/Out y entrada para pedal sustain.
3. M Audio Axiom Air   Ver precio
El Axiom Air esta entre la gama más alta de teclados de M Audio. Aunque personalmente no soy muy fan de esta marca, se ha ganado su hueco en el mercado de teclados de calidad media y precios muy competitivos, por lo que por su popularidad se merece el tercer puesto. El Axiom Air es el sucesor de la gama M Audio Axiom, que por lo que tengo entendido, ha dejado de comercializarse. Las principales características del Axiom Air son:
Número de teclas: 25 / 49 / 61
Teclas con aftertouch.
8 knobs, 9 faders.
12 pads.
Ruedas de modulación y pitch.
Pantalla LCD.
Conexiones USB, MIDI In/Out y entrada para pedal sustain.
4. Nektar Panorama   Ver precio
Aunque esta marca es todavía relativamente desconocida para la mayoría de la gente, Nektar ha conseguido hacerse un hueco en el mercado de los teclados MIDI a base de unas críticas impresionantes. Su buque insignia es el Nektar Panorama, con unas características que llaman mucho la atención:
Teclas contrapesadas con aftertouch.
12 pads.
9 faders y hasta otros 14 controles configurables.
Puerto USB y USB Micro.
Conexión MIDI Out y entrada para pedal sustain.
Pantalla TFT de alta resolución.
Reconozco que tengo debilidad por los productos Arturia. Sin embargo, Arturia suele indentificarse más con software, ya que sus VST y syntetizadores son realmente unos de los más conseguidos del mercado. Aunque soy un gran fan de los VST de Arturia, los teclados no han llegado a engancharme tanto. No obstante, son unos teclados de gran calidad y a un precio razonable. Entre sus usuarios suele haber una crítica común: las teclas no son de la mejor calidad. Sin embargo, Arturia precisamente se caracteriza para ser usado con sintetizadores y no por pianistas avanzados, por lo que se entiende que no centren sus esfuerzos en la calidad de sus teclas. Características:
Teclas sensibles con aftertouch.
16 pads.
12 knobs y 9 faders.
Ruedas de modulación y pitch bend.
Pantalla LCD.
Carcasa de metal con laterales de madera, lo que lo distingue de sus competidores y le da ese look retro tan típico en los sintetizadores de los 80.
Conexión USB, MIDI In/Out y entrada para pedal sustain.
Suele venir con Analog Lab Software, una increíble librería con más de 5.000 sonidos.
Alesis es otra de las marcas que se ha conseguido hacer un hueco entre los teclados MIDI de gama media. Los precios son muy parecidos a los teclados de Novation, que personalmente me gustan más, por lo que tiendo a decantarme por ellos. Sin embargo, Alesis también cuenta con la gama V (sin la «I»), que son teclados más baratos, pero que también cuentan con menos prestaciones (no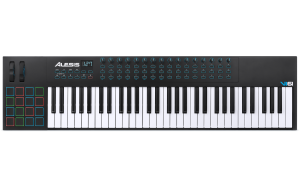 llevan pads y llevan menos controles y de peor calidad, pero puede ser una buena opción si tu presupuesto es más ajustado). Las principales características de la gama VI son:
Teclas semicontrapesadas con aftertouch.
48 botones y 19 knobs.
Ruedas pitch y modulación.
Conexión USB, MIDI Out y entrada para pedal sustain.
16 pads.
Puede que la gama Oxygen de M Audio sea la más vendida del mercado. Con unos precios muy asequibles y unas buenas prestaciones, es una de las opciones preferidas para aquellos que buscan iniciarse con su primer teclado. Por un precio asequible tienes a tu alcance un buen teclado que no prescinde de prestaciones de teclados de precios más caros (incorporan pads y una cantidad razonable de controles). Clara prueba de su popularidad es que ya van por la 4 generación (mkIV). Estas son sus características más destacables:
Teclas de tipo sintetizador sensibles a la velocidad.
8 knobs y 9 faders.
Pantalla LCD.
Conexión USB, Plug&play.
Entrada para pedal sustain.
8 pads.
8. Novation Launchkey   Ver precio
La gama Launchkey es la hermana pequeña del Impulse y la gama para principiantes de Novation. Este fue el primer teclado con el que me hice, y fue una muy buena inversión. Con uno de los precios más bajos del mercado, puedes llevarte un teclado muy completo que también cuenta con prestaciones propias de teclados de gamas superiores. Si estás buscando un primer teclado a buen precio, mi recomendación sería que te hicieses con un Launchkey o con un M Audio Oxygem (personalmente, prefiero los productos Novation, pero ambas son opciones más que recomendables como primer teclado). Estas son sus principales características:
teclas simples tipo sintetizador.
16 pads.
9 faders y 8 knobs.
Pantalla LED.
Ruedas de modulación y pitch.
Incluye el software Novation V-Station y Bass Station, que son unos buenos plugins para iniciarte.
Conexión USB, Plug & Play y entrada para pedal sustain.
9. M Audio Keystation   Ver precio 
Por último, en un escalón algo inferior en cuanto a calidad, se encuentra la gama Keystation de M Audio y el Behringer U Control UMX. Realmente obtienes lo que pagas; son uno de los teclados más baratos del mercado, pero en consecuencia también recibes menos características. La gama Keystation es una buena opción si lo que buscas es un teclado con teclas de tamaño completo y un número suficiente de teclas a un precio bajo. No obtendrás tantos controles (no tienen faders ni pads), pero si lo que buscas es un teclado barato que cumpla su función, esta puede ser la mejor opción para ti. Características:
Teclas simples sensibles a la velocidad.
Ruedas de modulación y pitch bend.
Plug & play
Conexión USB, MIDI Out y entrada para pedal sustain.
En último lugar, he querido hacer un hueco al Behringer U Control UMX. Aunque Behringer no tiene demasiado buen nombre entre gente con más experiencia en el mundo de la producción musical, es cierto que en los últimos años han mejorado la calidad de sus productos, lo que junto a sus asequibles precios, hacen que sea una marca muy a tener en cuenta para aquellos que se están iniciando. De hecho, yo mismo he tenido muchos productos marca Behringer. Si, es cierto que no son los mejores del mercado, pero por su precio es una muy buena opción para empezar a trastear. Las características de este teclado:
Teclas simples con sensibilidad.
8 reguladores.
Ruedas de modulación y pitch bend.
Conexión USB y MIDI Out.
Conclusiones
Como puedes ver, al final la configuración de todos los teclados es muy parecida: unas cuantas escalas y otros tantos knobs, faders y pads. En mi opinión, la principal diferencia es la sensibilidad y calidad de las teclas, las conexiones y la calidad de los materiales. Por lo tanto, mi recomendación es la siguiente:
Si estás buscando algo sencillo como primer teclado y quieres gastarte le menos posible, ve a por el Novation Launchkey o el M Audio Oxygen. Su precio es muy razonable y obtendrás un producto fiable que te servirá para dar tus primeros pasos en la producción musical.
Si por el contrario buscas algo de una calidad mejor, con mayores controles y que pueda servirte durante más años (evitando así tener que hacer otro desembolso en el futuro), te recomiendo sin duda que te hagas con el Novation Impulse o con el Akai MPK. Ambos son teclados magníficos con (para mi gusto) la mejor relación calidad precio del mercado.
Espero haberte ayudado a decidir qué teclado MIDI se adapta mejor a tus necesidades. Si echas alguno en falta en la lista o si simplemente quiere comentar algo, deja tu comentario y estaré encantado de escuchar tus sugerencias!
Ir a los «Mejores Teclados MIDI de 25 teclas para 2017